SINGAPORE ENTERPRISE MEDAL OF HONOUR LOGO
(MERLION & CREST) USAGE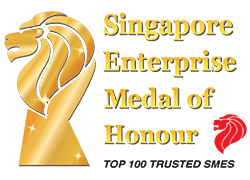 Please do not alter the proportions of the logos, enclosed them in a
box, add effect or crop them.
The grant award logos are highly recommended to appear against a
white or pale background for an outstanding display.
Display a logo on your web site, your Facebook and LinkedIn profiles,
in your sales presentations, in your email signature, etc. Included
here are high-resolution JPEG & PNG-format image of the logo that
you may use for print production such as on your stationery and
marketing literature.
Limitations:
For best optimized effect, logos can only be printed or presented at a
size no larger than 12cm measurement in width or length.
Logos may be used only for identifying an organization or individual
as being named a recipient of Singapore Enterprise Medal of Honour.