SINGAPORE ENTERPRISE MEDAL OF HONOUR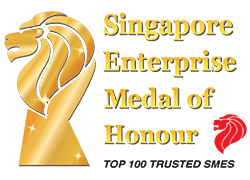 C&A Era Pte Ltd was established way back in 1999 by a husband and wife team – Mr Clement Ang and Mrs Angela Ang.  The company specialises in acrylic business and is currently the market leader for acrylic fabrication in Singapore. It captures more than 65% of the market share in cosmetic industry.
Priscilla Ang, Business Development Director of C&A Era Pte Ltd is the second generation successor. She assumed the responsibility to the run the business as both her parents are of retirement age.  Priscilla came from construction sales background and she said adjustment for her was not difficult when she joined back the company. The fabrication of acrylic product is less complex than those in construction field.  She also enjoys exposures to the diverse range of acrylic products, in particular, those of the cosmetic companies.
For the past 20 years, the company has an astonishing performance of delivering quality acrylic products at a very competitive pricing as all fabrication from acrylic to printing are all fabricated in house. Priscilla spoke with pride on the company's ability to provide the fastest turnaround time in its industry and deliver in tip top quality.  She said that all these were made possible with expertise and in-house fabrication facilities. Her father, Clement Ang, is a veteran in acrylic business and his experience guided the company's high quality fabrications. His aim to the staffs of the company is to always deliver items that are to the client's satisfaction. He has the expertise to identify technics to manufacture acrylic effectively at a low cost and the constant investment on machinery have brought the company to another level of modernization manufacturing. A great teamwork of workers is another contributing factor to the company's success. From on start, Priscilla's parents cultivated an excellent "family-like' working relationship amongst the staff. The team works efficiently in an amicable environment. The company continues to reinforce good rapport amongst staff with monthly celebration for birthdays, rewarding dinner after a series of project, overseas trips and annual Dinner & Dance events.
C&A Pte Ltd has a well-established pool of loyal customers. Currently, about 80% of its fabrication is in beauty products.  One of the company's biggest customer is the cosmetic giant – Estee Lauder.  Estee Lauder has an extensive number of brands under its wings and these are popular high end cosmetic brands like Clinique, LaMer, Aveda, Bobbi Brown and Mac cosmetics. Besides cosmetics, the company also supplies its products to Watsons and numerous brands in Guardian Pharmacies. The additional list of customers includes government institutions like NUS, NTU, MOM, HDB, Tan Tock Seng Hospital and Changi Hospital.
We have 100% recycled and recyclable cast acrylic sheet
PMMA it's the only plastic that can be recycled back to its original raw material : Monomer